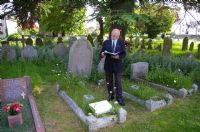 Brian Sylvester reads the history of Sapper A.G. Crame of the Royal Engineers
VE Day Remembered
A few Friends gather to remember the Fallen of World War 2
On VE Day (Friday 8th May), a few members of the Friends gathered in Newtown Road cemetery to remember the fallen of World War 2 that are buried there.
We limited the number of attendees so that we could observe careful social distancing as we gathered around each of the 5 commonwealth war graves where Brian Sylvester and Paul Thompson read details about the life and death of the people buried there.
After commerorating each life, a poppy cross was placed on the grave.
At 11am, we stood in silence with the rest of the nation for two minutes to remember not only those buried at home, but all those that never came home, giving their lives so we could enjoy the free world we have today.
The event was recorded in the Newbury weekly News of May 14th.