'Residents Resurrected' 2021 - Major Edward Pellew Plenty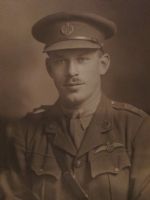 'Residents Resurrected' 2021 - Major Edward Pellew Plenty
First performed: 23/06/2021
Author: Ros Clow
COVID prevented our latest production of 'Residents Resurrected' from delighting our audience so in 2021 we decided to present a scaled down version outdoors.
We chose the story of Major Plenty, who was expected to take over the family firm of Plenty Engineering, based where the Kennet Centre is now. Instead, he learned to fly and joined the Army, was transferred to the Royal Flying Corps, which became the RAF.
He was stationed in northern France at La Gorgue and with the help of Serge Comini, the historian of Abbaye et aérodromes de Beaupré sur la Lys - La Gorgue, we were able to tell his story. Andrew J. Smith performed the monologue, twice near the site of the Dissenter's Chapel in the cemetery on Wednesday 23rd June 2021, and again later in the year (Saturday 13th November) in the Anglican Chapel.
Major Plenty flew reconnaissance over the trenches and survived till the end of the Great War. He was a victim of Spanish Flu in November 1918.
© FNRC
Images from the Play
Script for the play
Script not currently available.