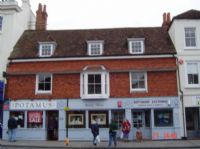 50 Northbrook Street, Newbury - formerly Webb & sons, grocers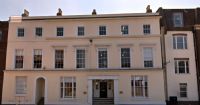 Portland Place, Newbury - former home of Samuel Webb
Samuel Webb
1859-1931
Samuel was born in Newbury in 1859 he was the son of John & Susan Webb (nee Brooks) who were married in Newbury in 1856.
Samuel's siblings were:
John Brooks 1857 Jessie Susannah 1858 Elizabeth Brooks 1861 Mary Annie 1863 Thomas 1864 Sarah 1866 Ellen Edith 1868 Florence Isabel 1870 Martha 1871 Frank Guthrie 1873 Hetty Katharine Rayer 1875
Samuel was a Grocer as was his father, grandfather and great grandfather. His great grandfather John Webb (c1769-1850) purchased a grocery business at 50 Northbrook Street, Newbury Berkshire in 1812. It specialised in cheeses, premium bacon and coffee plus general provisions. This Grocery business was very successful and was passed down to Samuel's grandfather Thomas Webb (c1795-1855) and then onto Samuel's uncle Charles Webb (c1826-1910) & Samuel's father John Webb (c1833-1903) who worked in partnership, his uncle Charles taking the management role. After his uncle Charles retired Samuel's father John continued to run the business with the help of Samuel and his brother John Brooks (born 1857) but as time passed the business started to suffer due to the changing methods by the competition and in 1903 his father John committed suicide by drowning himself in a water butt. John Brooks & Samuel continued to run the business until 1918, when it was sold to Mr George Sage.
In 1861 Samuel was living with his parents and siblings in The Crescent Shaw Road Newbury, by 1871 the family had moved to Speenhamland (possibly Portland Place).
The 1881 census records Samuel as a Grocer's Assistant working at 97 & 98 East Street Southampton Hampshire.
Samuel married Annie Maria Westcombe in 1887 in Hampshire after the marriage they moved to Newbury.
Annie died aged 27 the following year and was buried in the Newtown Road Cemetery on the 4th June 1888.
In 1891 Samuel was living in Shaw Crescent, his sister Florence was living with him at this time. In 1901 he was living at 50 Northbrook Street Newbury with his widowed father and sisters, Sarah, Florence and Hetty.
In 1911 he was living in Portland Place with his sisters, Sarah, Ellen, Florence and Hetty.
Samuel died aged 71 on the 31st March 1931 and was laid to rest in the Newtown Road Cemetery on the 4th April 1931
Sources:as above