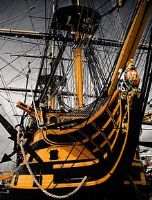 Eliza is purported to have been born aboard HMS Victory in 1797 off Cape St Vincent
ELIZA THORN b. 1797 on board
HMS Victory at sea and stationed
off Lisbon
Eliza was possibly baptised in 1798 at Gosport when HMS Victory returned to her home port.
It appears that Eliza married her first husband, a Mr Pain, in Hampshire at some stage and on being widowed came to Newbury and was married for a second time in 1849 to John Thorn, a local blind man and a rural postman.
Upon the death of her second husband in 1877 it seems she entered the Union Workhouse in Newbury. She died there in 1883 and was buried in Newtown Road Cemetery on 2nd October 1883.
Her husband John is also buried in the Cemetery
Sources:Censuses and Death Certificate