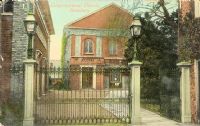 Nether Chapel, Sheffield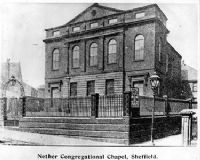 Nether Chapel, Sheffield, built in 1828 demolished 1970
Rev. Edward Harper Titchmarsh, M.A.
He was born on 16 March 1862 in Royston, Hertfordshire. His father , Edward Titchmarsh, was a successful draper and grocer in the High Street and he came from Wimpole, Cambs., where his father (Edward Harper's grandfather), Charles was a tenant of Lord Hardwicke, farming 176 acres as well as cattle dealing. In July 1859 Charles was made bankrupt under a Bill of Sale and his farming stock, agricultural implements, crops and household furniture were seized and sold by auction.
His mother was Susannah Spraggins from Godmanchester, Huntingdonshire. In 1861 she is recorded living with her Aunt Frances (nee Spraggins) and Uncle Henry Harper in Godmanchester, and his father, Edward Titchmarsh, was visiting the same household at the time. Henry Harper was a farmer of 68 acres, a brick and tile merchant and employer.
Edward and Susannah married in the same year and Edward Harper was born the following year. Over the next 20 years the family grew: Walter Charles (b.1863); Alfred Thomas (b.1864); Catherine Ann (b.1865); Henry George (b. and d. 1867); Frances Emma (b. 1868); Edith Susannah (b.1870); Agnes Louise (b.1871); Arthur George (b. 1872 and d. 1873); Martha Decima (b.1874) and Charles Harold (b.1881).
During these years the business prospered and he was employing several assistants including his 2 brothers Thomas and George in 1871 and by 1881 his eldest sons Edward Harper, Walter Charles and Alfred Thomas had joined the business.
Edward Harper had already been actively involved in the pursuit of social causes and education (refer account in the Herts & Cambs. Reporter dated 24/11/1882 below). The Congregational Chapel was located in John Street just off the High Street.
He soon entered the ministry at New College, London, where he matriculated in June 1883. He took his Bachelor of Arts degree (1885) and then his Master of Arts of London University (1887). During this time he gained a First in Mental and Moral Science as well as Scripture, and was the first winner of the Gerstenberg Prize.
Despite his scholastic brilliance which could have taken him to a professorship, he resolutely took on the Ministry at Erith in 1888. In the 1891 census he was residing at Mrs. Martin's lodging house at 15 Queens Road. He was by now being described as a preacher of great power and eloquence and giving lectures at the Ramsgate Congregational Institute. Living nearby in Pier Road was Caroline Farmar, his future wife. She too came from a Nonconformist background. They married on 7 May 1896 at the Congregational Church, Queens Road.
He came to Newbury in 1896 to take on the ministry at the Congregational Church. Three children were born: Kathleen Edith (b.1897); Edward Charles (b.1899) and Irene Margaret (b.1903). The family lived at 1 Lynmouth Villas, Enborne Road. His workload was phenomenal: however he found the time to champion the cause of Passive Resistance following the introduction of the highly controversial Education Act of 1902 and to speak for a free library. (Refer to newspaper accounts below). Locally he was known as the "Bishop of Newbury". Also he managed to find the time to enjoy his favourite recreations of cricket and cycling.
In 1906 he was appointed to take on a much larger pastorate in Sheffield at the Nether Chapel, Norfolk Street. The family lived at 7 Grange Road, and their second son Philip Farmar was born in 1912. He worked there for 14 years and he was rewarded by being appointed Chairman of the Yorkshire Congregational Association in March 1920. His friends wished him "a useful, happy and strenuous year of work".
In September 1920 he was appointed as an assistant tutor at Lancashire College, Manchester, for 12 months, taking three classes, the Sermon Class, a class in Pastoral Theology, including the principles and history of Congregationalism, and, in the third class, an introduction to Theology. In May 1922 he accepted the ministry at the New Congregational Church, Halstead, where he worked for 7 years residing at The Manse, Parsonage Street.
He retired at the end of July 1929 and he returned to Newbury with his wife Caroline living at 15 Chesterfield Road.
He died on 3 May 1935 aged 73 years and he was buried on 7 May 1935.
His son Edward Charles Titchmarsh became a leading mathematician of his day. In December 1916 he won an Open Scholarship to Balliol College, Oxford, aged 17 years old. He began his studies in October 1917 but he was soon serving in France as a dispatch rider with the Royal Engineers. He resumed his studies in Oxford in October 1919. He graduated with a First Class degree in 1922 and won mathematical scholarships for his outstanding work. He held the Chair of Pure Mathematics at Liverpool from 1929 for 2 years, and then the Savilian Chair of Geometry at Oxford for 30 years. He was elected to the Royal Society in 1931 and Fellow of New College since 1931. He died on 18 January 1963.
His brother Charles Harold Titchmarsh was an English cricketer active in county and first class cricket for MCC from 1920-1928. It is recorded that he was educated at the Nonconformist College at Bishop's Stortford.
For the historical context on Passive Resistance locally and nationally, follow the links for the play by Ros Clow presented by The Resurrection Players on 14/15 April 2018.
Mrs. P. Code C72 Page 189
Sources: Birth Index 2Q 1862; 1871 to 1911 Census; Marriage Index 2Q 1896; Student List, University of London, Senate House Library; Farmar Families.com; History of the Congregational Churches in Berks., S. Oxon and S. Bucks; 1899 and 1903 Kelly's Directory Berkshire; 1911 White's Directory of Sheffield and Rotherham; 1925 Kelly's Directory Halstead, Essex; Death Index June 1935; Probate & Wills.
Sources:as above