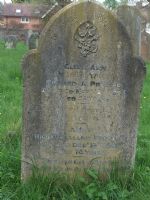 Gravestone with Memorial inscription to Richard Allen and Eliza Ann Prestoe
ELIZA ANN PRESTOE
Richard Allen Prestoe
Born inAndover in 1836 the son of Richard (b 1809) and Charlotte Allen (b 1810 in Newbury) married17 Dec. 1835. Richard senior was an agricultural machinist.
By 1842 the family was living in Newbury, Richard had two brothers and two sisters all born in Newbury. On 1861 census they were living at6 Pleasant Placeand his occupation was millwright journeyman.
By 1871 he was married to Elizabeth Amy Hatt (1861) and had a daughter Kate and a son Thomas. He was still a millwright and living at5 Pleasant Place, parents still living at No 6.
In 1881, occupation now engine fitter and still living at5 Pleasant Placehe and his wife had a daughter Annie, at home and four sons Thomas, Albert, Harry and Frederick.
By 1891 he was a steam engine fitter and living at6 Pleasant Place. His wife , two daughters Charlotte ( a dressmaker) and Pollie ( a mother's help) and three sons Albert (printers compositor), Harry ( Tinsman apprentice) and Frederick ( scholar) all at home.
On 1901 census Richard was described as an engine fitter and was a widower.
Elizabethhad died12 November 1893aged 59 years.
NWN 28 January 1892 had a piece about the good health of the employees of the Eagleworks during a 'flu epidemic which was affecting other businesses in the town badly.
NWN 7 January 1897 had a piece about the Sick Fund at the Eagleworks of which Richard was the Secretary.
Richard died 22nd December 1906 aged 70yrs. still living at6 Pleasant Place.
Sources:Census records