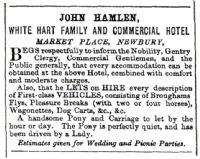 Advertisement in Newbury Weekky News 1873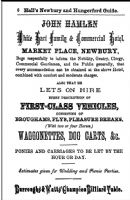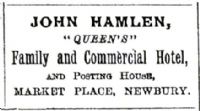 "Business card" advertisement 1886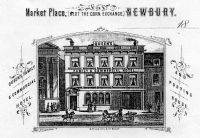 Elaborate letter heading on Te Queen's Hotel notepaper
John & Mary Hamlen
Persons buried in Newtown Road cemetery and mentioned in this note:
Name Grave Ref (BFHS)
Hamlen, John LN 19
Hamlen, Mary née Osland LN 19
Hannington, Edward W 151
Hannington, Mary W 151
Hannington, Harmon Skinner W 151
King, Charlotte Kate née Hamlen WA 76
King, John William Dundas WA 76
Plenty, Jessie Adelaide née Hamlen Ch 4 (A)
Plenty, Edward Pellew III Ch 4 (A)
Plenty, Edward Pellew IV LS(H) 22
Memorial Inscriptions
LN 19 In loving remembrance of John Hamlen who died Oct 22nd 1894 in his 50th year. "Thy will be done." Also Mary wife of the above who died June 4th 1908 aged 68 years. "Her end was peace".
W 151 In loving memory of Edward Hannington died Dec 24th 1870 aged 58 years. Also Mary Hannington wife of the above died Feb 23rd 1895 aged 90 years. Also Frederick Edward Hannington second son of the above died March 4th 1866 aged 17 years. Also Harman Skinner Hannington (Mayor of Newbury, 1895) son of the above died Sept 9th 1901 aged 54 years.
WA 76 In loving memory of Charlotte Kate King, born July 11th 1878, died April 21st 1913. Also of John William Dundas King, born May 8th 1871, died Sept 15th 1915.
CH 4(A) In loving memory of Edward Pellew Plenty born June 18th 1868, died November 13th 1949. Also of his wife Jessie Adelaide. Reunited April 25th 1957 aged 84 years.
LS(H) 22 In ever loving memory of Edward Pellew Plenty, Major in the Royal Air Force, the only and beloved son of Edward Pellew and Jessie Plenty. Died on active service at Wyton, Huntingdon, Nov 21 1918 aged 21 years and 4 months. He was flying in France as a pilot from September 1915 to May 1916 and from October 1916 to June 1917. Twice mentioned in dispatches he did his duty until the end.
History
John Hamlen was born in Preshute, Wilts in 1845, son of Daniel, a farm bailiff, and his wife Charlotte. In 1851 Daniel and family were living in the tithing of Clatford, part of Preshute Without. It seems possible that he was working as a bailiff for the owners of Clatford Hall which is located just south of the BathRoad (A4) a couple of miles west of Marlborough. Although Clatford was in the parish of Preshute the nearest church (by far) was at Fyfield; it was there that John was christened (entered in the parish register as John Hamblin) on 3 Aug 1845. At some point in the 1860s young John came to Newbury to work as a draper's assistant, having served his apprenticeship with John Walker in Devizes. He was employed by Edward Hannington, who ran a shop at 19 Northbrook Street. When Hannington died in 1870 his wife, Mary, took on the business eventually handing over to her son, Harmon. All three Hanningtons share a grave (W 151) in the Newtown Road Cemetery.
By 1872 Hamlen had had a change of career, having taken over as landlord of the White Hart in the Market Place (now Gardner Leader solicitors). One hundred years earlier the White Hart had been one of the two main inns (along with the Globe) in the Borough of Newbury. The first 'Flying Coaches' set out from its yard to make the journey at a hitherto unachievable speed, such that one could breakfast in Newbury and sit down to dinner in London. The coming of the railway ended the long-distance coach trade, but the White Hart continued as a local inn and posting house, where a horse or a carriage could be hired to take one on the local leg of a journey. By the time Hamlen arrived the White Hart was well past its prime so, as an enterprising young man, he moved on in 1879 to the Three Tuns Inn. This was a short move of about hundred yards south, but the Three Tuns had better prospects. The ownership during John Hamlen's tenure is unclear (William Parr is named as owner in 1875, but, by 1903, it was in the hands of Reading brewers, H & G Simonds). However, there was money available for a major refurbishment in 1878, perhaps an indication that new owners (Simonds?) wanted to maximise the hotel's chances.
The refurbishment of the Three Tuns coincided with Hamlen's arrival at the old inn and included a rebranding as The Queen's Hotel. The opening, on 29 May 1879 was reported in the Newbury Weekly News: The "Queen's Hotel," or the "Queen's" as it will probably be more laconically known, will henceforth be the name for the "Tuns Hotel"; the change extending also to the premises, which are in the process of transformation; no expense having been spared to make the interior structurally convenient and comfortable, and the
outside architecturally attractive and imposing, thus keeping abreast with other improvements which have occurred in the Market-place in recent years. Newbury has been spoken of as being somewhat deficient in hotel accommodation for families and visitors to the town. Mr Hamlen in his new venture lays himself out for supplying any want that may be felt in this direction, as well as making it a thoroughly good market and commercial house and posting establishment, in addition to the general trade of an hotel. The "Queen's" opens today; the market ordinary is at 2:30.
This was a time when accommodation for travellers was changing. The railways had enabled many more people to travel and it seems that every town had its Railway Hotel near the station. Newbury was no exception, with three hotels (Railway, Sun and Black Boys) covering the station approaches. However, many travellers preferred to stay in the heart of a town and the Queen's was ideally situated for this trade. Under Hamlen the Queen's became the premier hotel in the town, a position it held until the expansion of the Chequers in the 1930s. His years at the White Hart had showed that he was ahead of most of the competition, advertising regularly in the local paper and hosting many local organisations' for their major dinners. One annual event was the Lodge Dinner for the local Freemasons. Hamlen, himself, joined Newbury's Loyal Berkshire Lodge of Hope in 1875. Perhaps this explains their choice of dinner venue; certainly they followed him to his new premises.
John married Mary Osland in 1868 (Q4), they had seven children: Florence Ada (Q2 1869), Charlotte Kate (11 Jul 1870), Jessie Adelaide (Q2 1872), Arthur Osland (Q1 1874), Herbert John (1875), Eveline (Evelyn) Maud (Q1 1877) and Ethel Marion (Q1 1878) who died when only 6 months old. Kate and Jessie are shown in the 1891 census as barmaids, obviously getting involved in the family business. Perhaps it was a pretty barmaid who caught the eye of Edward Pellew Plenty (III), scion of Newbury's long established engineering firm, Plenty & Son. He and Jessie were married in St Nicolas' Church, Newbury on 20 June in 1893 (PR); they died in 1949 (Edward) and 1957 (Jessie) and now lie together in the cemetery (Ch 4(A)) not far from her parents in the consecrated section, close to the path from the lodge gates to the chapel. Their son (Edward Pellew Plenty IV), who died in the 1918-19 influenza pandemic, is also in the cemetery (LS(N) 22), but, for some unknown reason, in the unconsecrated section.
John Hamlen died in 1894; his funeral took place in a downpour but was well attended by family, friends, neighbours, the hotel servants and several fellow Freemasons. The funeral arrangements were undertaken by Harmon Hannington, son of the man who gave Hamlen his first job in Newbury.
Hamlen's wife Mary took over the Queen's Hotel, remaining there until shortly before her death in 1908. Only six months before her death the license of the Queen's Hotel was transferred from Mary to Albert James Coles, who ran the hotel as a tenant of H & G Simonds.
John and Mary's son, Herbert, followed his parents' trade; in 1911 (census) he was running the Lamb Inn at East Ilsley with the help of his sisters, Florence and Evelyn. Another sister, Charlotte Kate, married John William Dundas King in March 1898; they are also buried in the Newtown Road Cemetery (WA 76). Kate also stayed in the family trade; she and John kept the White Hart in Cricklade (1911 census). Sadly both Kate and John died fairly young, orphaning their teenage son, Ernest and his younger sister Joan.
© P F Wood, 2011
Sources:Research