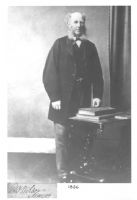 Mayor of Newbury 1856
EDWARD WILSON
THE LATE MR. ALDERMAN WILSON
The death of Mr. Alderman Wilson, which occurred on Thursday evening last,
after two days' illness removes from our midst the oldest Newbury tradesman, and
one who has been prominently identified with the business of the town, its
administration of justice, and its municipal government.
The deceased gentleman was born on September l4th 1807, and had therefore
attained the advanced age of eighty-three. His birthplace was Watchfield, a hamlet of
Shnvenham, Berks., his father Mr. Berkeley Wilson, being a farmer and maltster, and
ell known in agricultural circles. Edward was the youngest son of a family of thirteen
and is believed to have outlived all his brothers and sisters. The late Mr. Edward
Wilson came to Newbury in 1823, when he was sixteen years of age .For some time
he occupied a situation, and about half-a-century ago commenced in business as a
butcher, and in this respect he was most successful; a sound judgment, combined with
excellent business habits, enabled him to build up a large connection, and at the same
time to carry on extensive farming operations, having his hands at different times
Speenhamland Farm, Red Farm, Shaw Hill Farm and Cold Ash Farm. A few years
since he relinquished the larger part of the land which he had formerly cultivated, but
to the last he continued the Speenhamland Farm. The same energy he displayed in
commercial pursuits he carried into farming, and his farms always bore evidence to a
high degree of cultivation. H e believed in employing ample labour, and was
rewarded with good results. He was regarded as a good master, and maintained
excellent relations with his work people. It was about 40 years ago that Mr. Wilson
entered the Corporation in those good old times a Town Council election would cost
as much as £50 and £60. In 1856/7 he served the office of Mayor, which he filled
with general acceptance and universal approval. It was during his year of office that
Dr. Leslie Randall (now Bishop of Reading) was appointed Rector of Newbury. The
burgesses at that time were comparatively few, and more fickle than at present, for
Mr. Wilson,like others at that period, was defeated in at a subsequent election, but the
burgesses discovered the mistake that they had made, returned him a year or two
later by a triumphant majority, and he continued to his death a member of the
Corporation, having been created Alderman Alderman in 1867. He was for many
years Chairman of the Drainage Committee and would confidently tell his friends
how by his Fabian policy of delay he had contrived to stave off a new sewage system.
He was also a member of the Market Committee, and upon any question affecting
agriculture discussed in the Council Chamber his opinion always carried great
weight. Mr. Wilson was also appointed Borough Magistrate in 1879. Though not
holding as many appointments as some, Mr. Edward Wilson was accustomed to give
his best energies to those he espoused. He was the oldest member of the Newbury
Horticultural Society, and when the Wiltshire Agricultural Association visited
Church by contributing liberally to its restoration. In politics he was a Conservative,
though he was not accustomed to take any active part in political strife.
Mrs. Wilson predeceased him in 1884; and of his two sons and two daughters
the eldest son died in 1882. On Monday of last week he went to Reading market
according to his usual practice. On Wednesday he was taken ill, and gradually
became worse, passing away on Thursday night about half-past eleven.
On the following moming (Friday) the Mayor, speaking on behalf of a full
Bench of Magistrates then present, alluded to the public loss sustained by the death of
their late colleague; in all his public and offlrcial relations as a magistrate, and a
member of the Corporation he faithfully performed the duties devolving upon him,
and usefully served the town in many ways, and in offering their sincere tribute of
respect to the memory of their late friend and colleague, they tendered their sympathy
with his surviving and sorrowing relatives.
The funeral took place on Tuesday afternoon at the Cemetery, the coffin being
conveyed on an open car upon which were numerous beautiful wreaths. The
mourners were Miss Wilson and Miss F, Wilson, who followed in a mourning coach.
Next came the employees and domestic servants, some 16 in number, the Mayor and
Corporation, including the Mayor Mr. Councillor S. Knight, the ex-Mayor Mr.
Councillor R. Long; Aldermen Hickman, Jackson, Adey and Absalom; Councillors
Stone, Hopson, Hall, Ravenot. Midwinter, Jackson,Bazett. The Mayor was preceded
by the mace-bearers, the maces being draped with crepe.
Amongst those present at the cemetery we noticed Captain Sincock, Mr. J.H. Mason,
Mr. S. Hemsted, Dr. Ryatt. Borough Justices; Mr. H.J. Erye of Shaw; Mr. Fellowes, of
Donnington Priory; Messrs F. Coldicutt, G. Withers; F.J. Harrold, R. Canning, C.
Ive, E. Gould, J,W.H. Kemp, committee of the Newbury Horticultural Society; Mr.
Pettifer, Deputy Town Clerk; Mr. E. Stickland, Borough Surveyor; Messrs. J. Packer,
D.R. JoneS, W. Graham, W Knight, W. Davies, W Wilson, R.J. Freebody, H.
Coldicutt, E. Crisp, A. WattS, W. Bravant, etc. etc.
The funeral service was read by the Hon. And Rev. J.H. Nelson, Rector of Shaw-
cum-Donnington, and the deceased was buried in a grave beside his wife and eldest
son. The coffin was of polished oak, with brass fittings and plate inscribed
EDWARD WILSON
Born 14th Septernber 1807;
Died 2ndApril, 1891
Amongst those sending wreaths and crosses were the Mayor and Corporation;
Committee of the Newbury Horticultural Society; the employed of the deceased,
Alderman Jackson and Adey; Miss S. Fidler, Mr. Walter Money, Mr. Coldicutt, Mr.
F.S. Adnams, Mr. Freebody, Mr. W. Davies, Mr. R. Ryott, Mr. J. Long, Master Dyer,
Mr. Marks (Thatcham) etc etc.
The funeral arrangements were carried out by Mr. H.S. Hanington,
Northbrook-street.
At Shaw Church on Sunday evening the organist, Mr. Hubert Wright, played
Guilmant's Funeral March.
Newbury Weekly News 9th April 189I
Mrs. Pattison p. 104
see also: https://newbury.gov.uk/pdf/mayors-of-newbury.pdf
Biographical survey of the Mayors of Newbury by Anthony C.Pick
Sources:Newbury Weekly News 9 April 1891 and Mrs Pattison