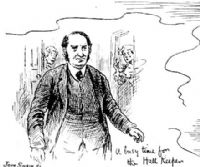 Hall Keeper
HENRY DODD
From the Newbury Weekly News, 8th December, 1892
DEATH OF THE TOWN SERGEANT
The funeral took place in the Cemetery on Friday morning of Mr. Henry Dodd, who died
last week after a short illness. Mr Dodd who had just passed his seventieth birthday, had for quarter-of-a-century, occupied the position of Town Hall keeper, mace-bearer and town sergeant, having succeeded to the latter post on the death of Mr. Perry.
He was a native of the borough, and when a boy attended the Lancasterian (sic) school. Previous to his municipal duties he was for many years in the employ of
Messrs. Bodman and Jones, who carried on the business as tailors, drapers and undertakers in Northbrook-street.
Mr. Dodd, for many years, acted as tyler1 and serving brother to the Masonic lodge, which held its meetings in the Council Chamber.
As mace-bearer he was a familiar figure at all municipal functions, and likewise at Quarter Sessions, where he faithfully performed his part of the official routine.
Mr. Dodd was quite a local celebrity, and his widow has received many expressions of sympathy in her bereavement.
Amongst the numerous wreaths at the funeral was one from the Mayor of Newbury2 . Mrs. Dodd will temporarily carry on the duties of care-taker at the Municipal-buildings.
From the Newbury Weekly News, 10th May, 1877
FREEMASONRY - At the Newbury Lodge of Freemasonry held on Friday evening, the brethren voted a sum of two guineas to their tyler, Brother Dodd, in recognition of his courageous conduct in saving the lives of two children from drowning in West Mills.
Henry Dodd shares his grave (LS 13) with his wife ELEANOR who died 2nd March, 1893 aged 67.
LS 16 appears to hold another wife LYDIA who died 7th January 1858 aged 32, and LYDIA MARY a daughter, who died 11th September 1855, aged 3. The grave also contains ANN ELIZABETH who died 6th January, aged 46.
The office of Tyler is the doorkeeper. HD had been initiated into The Loyal Berkshire Lodge of Hope on
7th October, 1870 when W.H. Cave (Mayor 1866 & 7) was the Worshipful Master.
2
Alfred Jackson was Mayor in both 1891 and 1892.
HENRY DODD
Henry Dodd died 29th November 1892 aged 70. I can hardly pass by the death of Dodd without an expression of regret. Certainly a week or two since, when I was congratulating him on having passed the allotted age of man, I had no thought that he might so soon have passed away.
I have now and again had a little fun at Dodd's expense, but I always had a great respect for the old gentleman. In my early days he introduced me to all the quaint ceremonial attendant upon the holding of the Quarter Sessions, and I am afraid the Recorder, in all his glory, was rather a secondary personage in my youthful estimation, compared with the magnificence of Dodd.
Dodd had many troubles to bear from his short-tempered entertainment managers and juvenile disturbers, but has gone to his rest.
Peace be to his memory.
TATLER from the Newbury News, 1st October 1892.
His place of death shown in the announcement is given as The Town Hall.
HENRY DODD
Death of Mr. Dodd.—Another well-known and respected inhabitant has passed away from us this week in the death of Mr Henry Dodd, who, for the last quarter of century, has been hall keeper and one of the Sergeants-at-Mace of the Newbury Corporation, as well as officer to the Borough Recorder. Dodd had reached his seventieth year, and until within the past fortnight was in his usual health. A rather acute attack of bronchitis took him off, at last, after a few days' illness. Dodd was good servant to the Corporation.
Taken from The Berkshire Chronicle 3 December 1892
The picture above is extracted from "The Illustrated Sporting and Dramatic News" Sep
Sources:Berkshire Chronicle 3 December 1892