This business was started by Charles Packer, the father of John Packer (1784-1855).
this external link has more information about the business.
http://www.berkshirehistory.com/businesses/bracher_sydenham.html (FNRC has no responsibility for external content)

JOHN PACKER , snr (1784-1855)
Father: Charles Packer (as above), born in Bishopstone, Wilts.
Mother: Susannah Griffin They married 19/12/1782.
Father died in 1808. I have downloaded his will from National Archives. If you need this let me know.
Mother died in 1821, buried 21/6/1821, place St. Mary's, Reading.
Marriage of John Packer to Susannah Lock on 2/9/1811:


Source: Reading Mercury dated 16 September 1811, page 3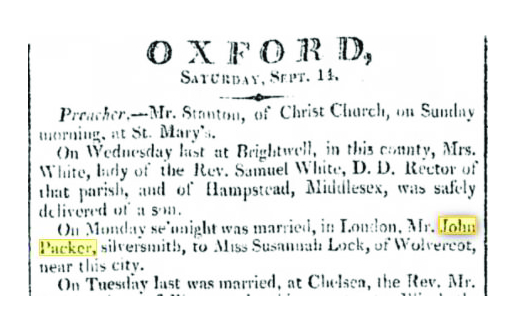 Source: Jackson's Oxford Journal dated 14 September 1811, page 3
1815 Toomer's Census: Page 96. Residing on the East side of Northbrook Street. He is aged 30, a silversmith. Also his wife Susan (age 30) and daughter Susannah (age 1). Plus 3 servants.

Source: 1847 Kelly's Directory page 2005
This confirms John Packer's many businesses and locations. Also his 2 daughters who became schoolmistresses.
Susannah Packer, née Lock (c.1784 – 1850)
She was the sole executrix to her mother's will dated 23/6/1809. Her mother Elizabeth bequeathed to Susannah her house in Wolverton and the one adjoining, £100, furniture, evening apparel and all other effects.
I am pretty certain that there is an error in the Ancestry tree you found in that the death record was in the name of Sarah Lock. Also Susannah Sarah Lock married William Marshall on 18/12/1808 in the City of London.
Their Children:
Susannah (aka Susan) baptised 12/6/1814 at St. Mary's, Reading. Done
Charles baptised 16/4/1815, Shoreditch. Became Rev. Charles Packer M.A., vicar of Longwood, Huddersfield, a position he held for 38 years. He died in 1891.
Eliza born 23/2/1816, baptised 10/5/1816 at St. Mary's, Reading. Her father is recorded living at Minster Street, Reading. Done
John born 1818 – see below
Ellen born 1822 – she married widower James Porteous Jackson on 18/7/1851 in London. She was buried NRC on 19/7/1892.
John Packer, jnr (1818 – 1894)
Done
First wife:
A bit more info.


Source: Morning Herald (London) dated 20/2/1856, page 8
Her full name was Mary Hannah Hooper, born 1824 in Tewkesbury.
Their daughter Mary Susannah Packer was born in 1861 Newbury.
She is recorded in the burial accounts as Mary Ann and on the grave inscription as Marianna.
Second wife:
A bit more info.


Source: Berkshire Chronicle dated 9 July 1864, page 8.
Their daughter Ethel Mildred Packer was born in 1869, mother's maiden name Mansell.
Sources:Various. See document