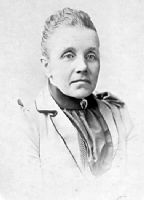 Mary Clinch 1841 - 1905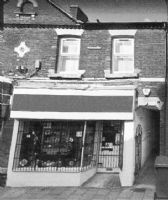 62 Cheap Street, Newbury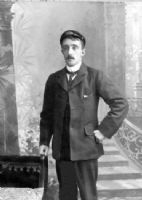 Frederick Gorge Clinch (Son of William and Mary Clinch, died at sea, recorded on the Memorial Inscription with his parents)
Mary Clinch
1841-1905
Mary was born on the 5th March 1841 in Whistley Green Hurst Berkshire the daughter of Richard and Sarah Knight (nee Duckett) who were married on the 3rd May 1838 at St Mary Reading Berkshire. Richard as born c1806 in Nettlebed Oxfordshire and was a Bricklayer. Sarah was born c1807.
In 1841 Mary (3 months) was living in Whistley Green with her parents, Richard (35) and Sarah (33) and her brother David (2).
Sarah gave birth to another daughter, Jane in 1843.
Mary's mother died aged 38 in 1845. Her father remarried on the 8th February 1849 in Hurst, his 2nd wife was Hannah Shepherd (nee Atto), a widow.
The 1851 census records Richard (48), Hannah (51), David (12) and Jane (7) living in Haines Hill Lodge, Broad Hinton Berkshire. Mary (10) was not home when this census was taken, she was visiting her grandfather Richard Duckett (70), a Farmer, at Sherfield upon Loddon Hampshire.
The 1861 census records Mary (20) as a Kitchen Maid working for Sir John Forbes at Swanston House Whitchurch Hampshire.
Mary married William Clinch on the 6th October 1868 at St Giles Reading. (William was born in Culham Oxfordshire he was the son of Thomas and Mary Clinch (nee Freeman) who married in 1841 (marriage registered in Wallingford). Thomas was born c1821 in Culham and Mary was born c1822 in Chosley Berkshire).
William and Mary had 11 children.
Mary gave birth to twin girls, Annie Matilda and Mary Jane in 1869 in Reading, sadly both girls died aged 6 weeks they were buried together on the 12th September 1869 in the London Road Cemetery Reading. Their 3rd daughter Florence Emily was born the following year in Reading. Florence died aged 6 months on the 23rd January 1871 she was laid to rest in the Newtown Road Cemetery on the 27th January.
The 1871 census records William (25), as a Journeyman Butcher living at 21 West Fields Newbury Berkshire. Mary was recorded visiting her father and step-mother at Haines Hill Lodge Hurst Berkshire.
Their 4th daughter, Flora Elizabeth was born in Newbury c1872 and their 5th daughter Emmeline Sarah was born in Reading c1874. Mary gave birth to their 1st son, William Albert in Newbury in 1876 sadly he died aged 1 on the 7th August 1877 he was laid to rest in the Newtown Road Cemetery on the 10th August 1877. Their 2nd son William Charles Knight was born in Newbury in 1877, followed by three more sons. Frederick George arrived in 1879, followed by Harry in 1881. Harry died aged 7 months on the 17th December 1881 he was laid to rest in the Newtown Road Cemetery on the 21st December. Henry Arthur arrived 1883 he died aged 6 weeks and was buried in the Newtown Road Cemetery on the 13th February. Their youngest child, Daisy Elizabeth arrived in 1884.
By 1881 the family were living at 1 Pleasant Place, Newbury and William (36) was working as a Butcher's Assistant.
The 1891 census records William (45) as a Butcher, living with his family at 62 Cheap Street Newbury.
William died aged 49 on the 20th March 1895 he was laid to rest in the Newtown Road Cemetery on the 25th March
The 1901 census records Mary (58), living at Witney, Porchester Road, Newbury with her daughter Daisy (16), an Apprentice Milliner.
At the aged of 15 their son Frederick George joined the Merchant Navy. By 1904 he was Chief Mate aboard the steamship "Roman". Whilst encountering bad weather in the English Channel, the hatchway was torn up and the ship's carpenter was hurled to the bottom of the hold where he lay suffocating from ammonia fumes. Frederick tried to save him but was also overpowered by the fumes, he was heard to mutter "save the carpenter first!" when another rescuer arrived. Sadly Frederick didn't survive the ordeal he was buried at sea on the 13th February 1904. He is recorded on the Memorial Inscription in the Newtown Road Cemetery alongside his parents.
Mary died aged 62 on the 6th August 1905 she was laid to rest in the Newtown Road Cemetery with William, on the 10th August.
Sources: as above