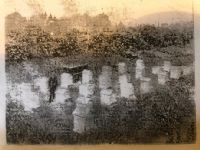 image of beehives
HONEY BEE GODDARD
Ernest William Goddard (William Ernest Goddard) b. 1866 d.1924
We appear to have trained our children well! They both spotted an article reproduced in Newbury Past and Present about a Goddard and e-mailed it to us. This article is from The British Bee Journal for 24 November 1898 and is entitled 'Homes of the Honey Bee: the apiaries of our readers' and features Mr W.E. Goddard. Mr Goddard, it says, was too modest to write the article himself and deputed the task to the Honorary Secretary of the Berkshire Bee Keepers Association. It appears that Mr Goddard had only recently taken up beekeeping, having been introduced to it about six years before, and since then had added it to his other hobbies. Although being the manager of a large lumber business, he managed to find time with a friend to make a large (unspecified) number of hives. Mr Goddard had two out-apiaries, one in Wash Water in an old gravel pit and the other surrounding his home. Not only did Mr Goddard and his wife have bee hives, but they had a "veritable paradise of a home garden with a whole menagerie of animals of every sort.....one cannot help coming to the conclusion that both Mr and Mrs Goddard are real lovers of Nature". Besides the above interests "Mr Goddard is also an active member of the lodge of Freemasons, the cricket club, bowling green, and is on the local committee of the Gordon Boys' Brigade"
.At first I was at a loss to place this Goddard — a rather common name in Newbury, past and present — but then it clicked; this is William Ernest, son of George, once police superintendent in the Newbury Borough Police and related to the two Richard Goddards who kept inns near Newbury Cattle Market. Descendants of the prolific Brimpton Goddard family, they have featured in our Goddard Newsletter on many occasions and have several members of the Association related to them. Born in 1866 at Ashbury, Wiltshire, where his father was a policeman in the Berkshire Constabulary, and one of six children, he was baptised in Brimpton the following year.
The wife he had when the article about his beekeeping was written. Gertrude Caroline, died in 1900 and he married again the next year. this time to Jessie Blanche Phillips. He died aged 57 on 2 December 1924; Jessie died in 1933 aged 54. Both are buried, with a rapidly decaying tombstone, in the Newtown Road Cemetery -in Newbury which, fortunately, is the (now closed) cemetery of which the Friends are attempting to record and research all those interred there.
The Friends have also recorded the death and burial of eminent Newburian John Rolfe, clothier and outfitter, in 1908. He had been, with William Ernest, involved in the Gordon Boys' Brigade. John was married to Ann Goddard, eldest sister to Richard senior, and another of the large Brimpton family.
See Goddard Newsletters 56, 93, 99, 100 and 103.
Julie Goddard of Newbury
Sources:as above