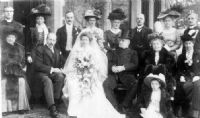 as above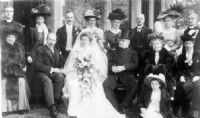 Gilbanks/Robinson wedding
REBECCA FRANCES MABEL ROBINSON
Rebecca Frances Mabel Gilbanks— to give her full name -was the fourth of the nine women elected to membership of the Society between 1891 and 1919. She joined the Society in 1907. Unfortunately, there are no clues to indicate how she came to be proposed for membership, as the minutes for 1907 are missing. The only other local member at the time was Emanuel H. Evans of Stourbridge, elected in 1905.
Mabel was the daughter of the Rev. George Gilbanks, the first Vicar of Wollaston, who held the living from the opening of the church in 1860 until his death in 1913. She was the seventh of the Vicar's eight children, born in 1869. The family hailed from Lamplugh in Cumberland and in 1901 Mabel was staying with her relatives at Holme Cultram (or Abbey Town) in that county where her uncle was vicar and her elder brother George — later Vicar of Ratby and Groby in Leicestershire — was curate. Another brother was Rector of Great Orton.
Wollaston is a suburb of Stourbridge, right on the western edge of the Black Country and the Midlands conurbation. Open countryside lies to the west. It still likes to think of itself as a village, and the church and former school — striking Victorian buildings in blue engineering brick with stone dressings — are at the centre of the community. The six bells (by Warners) were installed in 1865 and from the 1880s the tower was home to a strong and active local band. To quote a recent history of the parish, "Bells are no use without people to ring them, and Wollaston has benefited from generations of dedicated ringers".
It was with this band that Mabel learned her ringing. She joined the Worcestershire & Districts Association in 1898, and she seems to have been the first lady member. It was not until nearly ten years later that she rang her first peal, 'Grandsire Triples', at Oldswinford on I8 February 1907. By the end of 1909 she had rung in 11 peals for the Association, one of these being the peal of Minor in 7 methods on 21 December 1909 commemorated on a peal board in the tower. The board states, "This is the first PEAL in seven methods in which a LADY has taken part". Martin Fellows recalls that Jack Bass, a member of the 1909 Wollaston peal band, spoke of Mabel as a capable ringer, adding that "you had to watch your mouth" — no bad language! — when she was around.
In fact, the peal of minor in seven methods was, perhaps, not her most noteworthy performance. All her peals were on an inside bell, and they included Grandsire Triples, Stedman Triples, Bob Major, Grandsire Caters and — in October 1909 — Stedman Caters. Her peals were rung at Wollaston, Oldswinford, Selly Oak, the "pepper-pot" at Tipton, Dudley "Top Church", Chaddeslry Corbett and Brierley Hill.
She is not known to have taken part in any more peals after 1909. On 27 January 1910 she married William Robinson, the secretary to an insurance company in London and a man 13 years her elder. She doubtless moved to London, but whether she continued to ring under her new name of Mabel Robinson I do not how.
Despite her obvious ability, she doesn't feature in either Morris's History & Art or in the recent history of the Ladies Guild. Maybe this is because she drifted away from ringing after an initial spate of enthusiasm when she was in her thirties. At least we can now see that she was a notable figure in her day, and clearly a lady we should be proud to remember as a former member of our Society.
Sources:From the Newsletter of The Ancient Society of College Youths, Spring 2005 (which seems to be a bell-ringers publication)