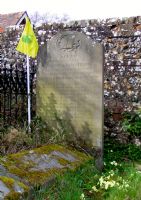 Grave at Newtown Road Cemetery
PERSON OF THE MONTH - APRIL
Rev. William Wilson (1799 – 1850)
The tributes expressed at the time of his untimely death described the Rev. William Wilson as a man highly respected and deeply loved not only by the religious community but also by those who benefited from his good works. By his exertions he was involved in the "promotion of the moral and social improvement of all grades; the cultivation and extension of literature and the amelioration of the position of the uneducated". When the railway was constructed his services were enlisted, and he originated the idea of the establishment of a cemetery. By a sad coincidence he would become the first interment on 6 April 1850.
William Wilson was born on 4 May 1799 in Dartmouth, the son of local currier William Wilson and Ursula (née Welsford). Both families were long standing members of the Presbyterian Meeting House, Dartmouth. His early education was under the Rev. Dr. Lant Carpenter LL.D., an educator and Unitarian minister who did much to broaden the spirit of English Unitarianism. In 1816 he entered Manchester College, York, where he received his professional training under the Rev. Charles Wellbeloved, Principal and Divinity tutor.
His first ministry was at the Unitarian Chapel, Crewkerne, Somerset (1821-23). He then became minister at Rosslyn Hill Unitarian Chapel, Hampstead, London (1824 -29) before removing to Newbury as the minister for the congregation at the Upper Meeting House, Toomer's Court (aka Waterside Chapel) for 20 years. Among his other interests was the Early Closing Association, the aim of which was to control the trading hours in shops and to abolish Sunday trading. He was a subscriber to the Literary & Scientific Institution, becoming its librarian in April 1848 for a year before ill health forced his resignation. He died from heart failure at the age of 51 years on 29 March 1850. His two sisters were later buried with him.
Sources: as above