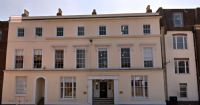 Portland Place, Newbury - home of William Francis and Sarah Flower
William Francis Flower
1850-1898
William was born in East Woodhay Hampshire the son of Frederick and Louisa Elizabeth Flower (nee Chinnock) who married in 1844 (marriage registered in Kingsclere). Frederick was a born c1796 in East Woodhay and was a Farmer. Louisa was born c1815 in Reading Berkshire.
Frederick and Louisa also had the following children:
Louisa 1845
Sarah Ann 1847
Frederick 1848
Ellen 1852
In both the 1851 and 1861 census records the William was recorded living at home with his parents and siblings at Hollington Farm, East Woodhay.
By 1871 William's father had retired and the family had moved to Wash Road Newbury. William was recorded in the census for this year as a Brewer's Clerk.
His father Frederick died aged 76 on the 20th February 1872 in Thatcham.
By 1881 Louisa and William were living in West Mills Newbury, the census for that year records William (30), as a Brewer's Manager.
William married Sarah Eliza Smith in 1884 (Sarah was born 1845 in Mildenhall Suffolk, daughter of Samuel Fuller and Mary Ann Smith (nee Spinks) who married in Norfolk in 1841)
Marriage details:
Place: St Peter Eaton Square Pimlico Middlesex
Date: 15th April 1884
Groom: William Francis Flower, full age, bachelor, occupation: Brewer's Agent abode: Newbury Berkshire
Bride: Sarah Eliza Smith, full age, spinster, abode: Tachbrook Street Pimlico
Fathers: Frederick Flower, occupation, Farmer and Samuel Fuller Smith, occupation, Chemist
Witnesses: Fuller Smith, Osbert George Smith, Henrietta Elizabeth Jemima Smith (birde's siblings) and F Flower (groom's brother)
In 1891 William (39) (no occupation recorded for William) and Eliza (41), a Milliner, were recorded living at 3 Portland Place Newbury
William died aged 48 on the 2nd July 1898 he was laid to rest in the Newtown Road Cemetery on the 6th July.
William's mother Louisa Elizabeth died aged 78 on the 28th October 1898 in Reading.
Sarah was recorded as a Milliner, living at 3 Portland Place Newbury in both the 1901 and 1911 census records. She died aged 73 on the 17th March 1919 she was laid to rest alongside her husband in a private grave in the Newtown Road Cemetery on the 20th March
Sources:as above