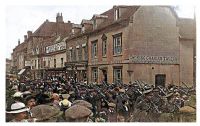 King Charles Public House,Newbury
James Berry (died 1918 aged 71)
James Berry (died 1918 aged 30)
Mary Esther Berry (died 1932 aged 74)
James Berry was born in Manchester in 1847, son of John (stonemason) and Mary. He joined the 85th Foot aged 20 in 1867. In 1878 in Cowley, Oxford he married Mary Esther Harris who had been born in Oxford in 1858. They were still living at Cowley Military barracks in 1881.
By 1891 James and Mary were living at Eastview Villas, Eastfields, Newbury. James was Sergeant Instructor of Volunteers. By 1901 James was the publican of the King Charles Tavern at 54 Cheap Street and remained there till his death in September 1918.He was also an Army Pensioner and Colour Sergeant.
James and Mary Esther's son, also called James, was born in 1888 in Newbury. One of eight children, he enlisted in April 1906. He had been working as a postman. While in the Armed Forces he took a chiropody course and was Regimental Chiropodist for over two years. In 1911 he is based at Moore Barracks, Shorncliffe Camp, Cheriton. He also worked as a school assistant and latterly as a library assistant in the Prince Consort's Library. As a Corporal he was discharged from the Army (Oxfordshire and Buckinghamshire Light Infantry) at Aldershot in February 1912. He was proclaimed medically unfit as he suffered from petit mal epilepsy.
In the report of his discharge, he is obviously well thought of, "Thoroughly sober and reliable". He was obviously good at reading which was not true of other contemporaries at that time.
In 1911 three of James's sisters, Margaret, Hilda and Mildred, were living with their parents at the King Charles Tavern.
Having lost one of her sons and her husband in 1918, Mary took over the licence and continued to run the King Charles until 1923. She died at 58, Greenham Road in 1932.
Sources:as above