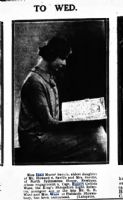 Jean Muriel Wace - mother of Philip
Philip Howard Wace (1928-1958)
Philip was born in Farnham, the son of Captain Rupert Wace MC, Kings Shropshire Light Infantry and Jean Muriel Wace née Savill (Claud's younger sister). In the 1939 Register his birth date is given as 24th December 1927.
In 1928 Jean's mother Muriel Savill, Philip's grandmother, died.
In 1929 Rupert died.
In 1937 Jean remarried a Dutch divorcee, Henrik Nieboer.
In 1939 Philip, aged 12, is living in Whitby in the home of a master mariner whose 25 year old daughter, Dorothy Fenwick, is registered as a governess, Philip is 'being tutored'.
Although Jean is listed on electoral rolls several times, Philip is never listed as living with her. Her brother Howard (Claud's twin) is living with her in 1953, as is her aunt Evelyn (born 1876).
Philip died in Fairmile Hospital in 1958 aged 30. Probate was awarded to his mother, Jean Nieboer, £6060 9s 6d, a considerable amount of money in those days. Cert ordered.
Sources:as above