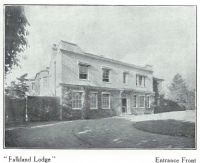 Falkland Lodge home of Claud Savill from 1913
Claud Frederick Savill (1904- 1918)
Claude was born in Eltham, Kent, the son of Howard Shaw Savill and Edith Muriel (Née Wheen). He and his identical twin brother Henry Howard Savill were the oldest children in the family.
His grandfather Walter Savill was a ship owner. The Savill Shaw Line had a monopoly on the route to New Zealand via the Panama Canal.
Howard was a clerk and then became a stockbroker, admitted to the Stock Exchange in 1898. In 1901 he was living with his father, two sisters, Alma and Evelyn and nine staff at 9 Queens Gardens, Hove.
He married Edith in 1903, the twins being born the next year. In 1911 Howard, Edith, Henry, Claud, sister Jean Muriel aged 5 and Alexander Gordon aged 3 are all living at Crofton, Woodfield Lane, Ashtead, Surrey. (see photo below)
In 1913 Howard bought Falkland Lodge at Wash Common. It was a substantial property and had garages and stabling, gardener's cottage, orchard, pleasure grounds, and two paddocks extending to 14 acres. Insert photo of Falkland Lodge However when Claud's sister Mary Cecilia was born in 1915 she was born in Lewisham not in the Newbury area.
In 1918 Claud was taken ill with influenza, the second wave which affected young, fit men so badly, and died of pneumonia (probably cytokine shock) on 4th November.
His grave is a double plot near the site of the Dissenter's Chapel. Thirty years later his nephew Philip Howard Wace was buried with him. Insert photo of grave
Sources:as above