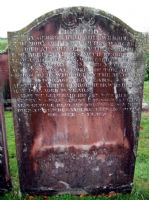 The Reid Family Tombstone in the Dalton Graveyard Dalton Dumfries
George Reid
c1825-1909
George was born in Kirkcudbright Scotland and was the son of George and Jane Reid (nee McCall). His father was born c1790 in Dumbfries Scotland he died in 1866 in Carlisle Cumberland. His mother was born c1793 in Wigtown Scotland she died in 1858 in Carlisle Cumberland.
George and Jane also had the following children:
Margaret c1819 (died aged 21 in Carlisle in 1840)
James c1820
William c1821
The 1841 census records George (16) and his mother Jane (40) living in Shaddon Gate Carlisle Cumberland
The 1851 census records George (58) as a Millwright living in Shaddongate Carlisle Cumberland with Jane (56) and their son James (31) who was recorded as a Miller. George (26) and his brother William (28) were recorded as Drapers and were living in Welldale Street St Mary Reading Berkshire.
George married in 1856
Marriage details:
Place: St John the Evangelist Westminster Middlesex
Date: 29th November 1856
Groom: George Reid aged 31, Bachelor, occupation, Draper, abode, 2 Romney Street
Bride: Hannah Lloyd aged 27, Spinster, abode, 2 Romney Street
Fathers: George Reid, occupation, Millwright Engineer and Thomas Lloyd, occupation, Gardener
Witnesses: Eliza Harris and George Crosswell (Hannah's half-brother)
Both bride and groom signed their names
George and Hannah had the following children (all born in Newbury except Margaret, she was born in Thatcham):
Jane 1858 (died 6th March 1911 aged 52 buried in the NRC on the 10th March)
William 1859
George 1860
James 1862 (died 2nd March 1863 aged 13 months buried in the NRC on the 7th March)
Margaret 1863
Catherine 1864
Ellen c1866
Thomas 1867 (died 1st June 1868 aged 14 months buried in the NRC on the 6th June)
Walter 1868 (died 29th July 1868 aged 3 weeks buried in the NRC on the 31st July)
Lloyd 1870
Gordon 1872
In 1861 the family were recorded living in Cheap Street Newbury, George (36) was recorded as a Woollen and Linen Draper. By 1871 they had moved to Bartholomew Street Newbury. The 1881 census also records the family living in Bartholomew Street in both the 1871 and 1881 census George was recorded as a Draper.
George became a widower in 1890 Hannah died aged 61 on the 18th December she was laid to rest in the Newtown Road Cemetery on the 23rd December.
The 1891 census again records George (66) as a Draper, living at 63 Bartholomew Street with his children, Jane (32), a Principal of a School, (a Boarding School for Girls situated at 63 Bartholomew Street) George (30), a Traveller, Catherine (26), a Governess, Helen, (Ellen) (25), a Governess, one servant and seventeen boarders (these boarders were all females ranging from 4-19 years of age all recorded as scholars).
The 1901 census records George (76) as a Retired Draper, living alone at 2 Bartholomew Almshouses Newbury.
George died aged 84 on the 20th July 1909 and was laid to rest in the Newtown Road Cemetery on the 24th July.
George is recorded on a gravestone in the Newtown Road Cemetery and also on a family gravestone in the Dalton Graveyard in Dalton Dumdfries as follows:
"ALSO GEORGE REID HIS YOUNGEST SON WHO DIED AT NEWBURY BERKSHIRE 20th JULY 1909 AGED 84 YEARS"
Sources:as above