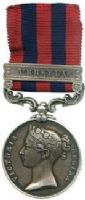 The North West Frontier of India 1863 Medal with clasp for Umbeyla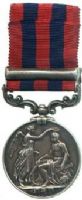 The North West Frontier of India 1863 Medal with clasp for Umbeyla
David James Herbert
1835-1892
David James Herbert was born in Newbury he was baptised on the 12th April 1835 and was the son of David Brinn/Brind and Harriet Herbert (nee Goddard) who were married on the 1st August 1832 at St Nicolas Church Newbury (David's middle name recorded as Brind at time of marriage).
David had an older brother, George Henry, he was baptised on the 3rd July 1833 at St Nicolas Church Newbury. (On George's baptism record his father was recorded as David Herbert, occupation: Hairdresser. On David's baptism record he was recorded as David Brind Herbert occupation: Barber's Stylist.
David's Father:
David's father was born on the 23rd July 1812, he was privately baptised on the 25th July as David Brinn Herbert and was the son of Henry and Mary Herbert. In 1815 he was recorded (as David Herbert, aged 3) living with a David and Sarah Brind in Northcroft Lane Newbury.
On the 28th February 1835 at the Berkshire County Assizes (Reading) David Herbert (23) was found guilty of Burglary (stealing considerable property belonging to William Batchelor) together with William Bird (24) and Robert Sprague (23), all three were sentenced to death. 67 people from Newbury jointly petitioned for clemency on the grounds that it was David's first offence. The sentences were commuted to Transportation for Life. UK Prison Hulk Registers and Letter Books 1802-1849 record David being received aboard the prison hulk "Leviathan" on the 5th May 1835. David was transported to Australia on the ship "Recovery 3" leaving London on the 30th October 1835, the ship arrived in New South Wales on the 25th February 1836. William and Robert were transported on the "England 3" which left Portsmouth on the 8th June 1835 arriving in Australia on the 28th September 1835, both had previous convictions.
David was recorded as follows: Marital Status: Married, Children: 2 male, From: Berkshire, Able to Read and Write: Yes, Occupation: Barber/ Plumber's Labourer, Religion: Protestant, Previous Convictions: None, Height: 5ft 4 and a half inches, Complexion: Sallow, Hair: Light Brown, Eyes: Hazel, Distinguishing Marks: Small raised mole on right cheek, woman, two children on upper, WBRS, crucifix, anchor inside lower right arm, crucifix upper, D B H H H D J H G H H, twenty seven dots inside lower left arm, A H Herbert back of left hand (The letters D B H H H D J H G H H were his initials, his wife's initials and the initials of his two sons. The letters WBRS were the initials of William Bird and Robert Sprague)
David received a conditional pardon for good conduct on the 20th December 1848 (the condition being that he should never return to the UK or his pardon would become void). He died aged 45 in 1857. The inquest held on the 3rd August 1857 in Shoalhaven records the cause of death as:" Disease of the heart probably intemperance" it also records David as David Herbert alias David Barber.
David's Mother:
David's mother was born c1808 in either Newbury Berkshire (as recorded on the 1851 census) or Woodhay Hampshire (as recorded on the 1861 census).
Soon after her husband's transportation Harriet formed a relationship with Charles Snow (born c1799 in Newbury), they had the following children:
Charles born 1837
Harriet born 1839
Jane born 1847
John born c1852 (died aged 3 in 1856 laid to rest in the NRC on the 11th April)
The 1841 census records Charles Snow (40), Shoemaker, Harriet Snow (30), David Snow (6) (David Herbert), Charles Snow (3) and Harriet Snow (2), living in the City Newbury. Harriet's son George Henry was recorded as George Herbert (8), Sweep's Apprentice living in Newtown Road Newbury with a George Parsons (20), Sweep, Ann Parsons (20) and William Parsons (1).
Charles and Harriet were married in 1845 in Newbury.
The 1851 census records Charles Snow (51), Shoemaker (Journeyman), Harriet Snow (43), David Herbert (14) (recorded as son-in-law), Harriet Herbert (12) (recorded as daughter) and Jane Snow (7), living in Mills Yard Newbury. Their son Charles (13) was not living at home at the time this census was taken he was working as a Chimney Sweep and was recorded in the household of Leah Hamblin (61) Chimney Sweep, in Hamblin's Yard Newbury. Harriet's son George Herbert (17) was recorded as a Journeyman Chimney Sweep living in Hampshire.
Charles died aged 63 in 1860 he was laid to rest in the Newtown Road Cemetery on the 22nd October
In 1861 Harriet Snow (53), Laundress, was living in Joplin's Yard Newbury with her daughters Harriet Snow (21), Laundress and Jane Snow (14), Servant and her grandson Henry James Snow (2).
Harriet died aged 54 in 1861 she was laid to rest in the Newtown Road Cemetery on the 17th June.
David joined the army on the 24th November 1855 he served for 21 years 12 days (final discharge date recorded as 5th December 1876) as a private in the 7th Regiment of Foot Royal Fusiliers (13 and a half of those years were served in the East Indies). His military record records him as follows: Height: 5ft 5inches, Complexion: Fresh, Eyes: Hazel, Hair: Light Brown, Trade: Labourer, Conduct: Good. He received four good conduct badges and the North West Frontier of India 1863 Medal with clasp for Umbeyla. At the time of his discharge his intended place of residence was 6 Grovenor Street Portsea Portsmouth Hampshire.
The 1871 census records David as a Soldier in the Anglelsea Barracks Portsea Hampshire.
David married in 1879
Marriage details:
Place: St Nicolas Church Newbury
Date: 14th July 1879
Groom: David James Herbert, full age, Bachelor, Labourer, abode: Newbury
Bride: Sarah Ann Grigg, full age, Widow, abode: Newbury
Father's: David Herbert, occupation: Labourer and Thomas Forman, occupation: Royal Marines Sergeant
Witnesses: John R Stillman and Fanny Tidbury
Groom signed Bride made her mark
Sarah Ann was born c1852 in Hampshire she was the widow of John Grigg (born c1838 in Cornwall) they were married in Portsea in 1871. Military records also record John as a private in the 7th Regiment of Foot Royal Fusiliers (serving alongside David Herbert). John and Sarah had two sons, John Henry Grigg born c1873 in Aldershot and James Aaron Grigg born 1875 in Southsea. (No death found for John Grigg, so possibly died in conflict while serving in the army)
David and Sarah had the following children:
David Percival 1878 (born before they married, birth registered in the June quarter in Newbury)
Elizabeth Harriet 1880 Newbury
Charles William 1882 Newbury
George Henry 1885 Newbury
The 1881 census records David Herbert (44), Bricklayer's Labourer, Sarah (29), David (3), Elizabeth (10 months), John Grigg (8) and James Grigg (6) living in Mayor's Lane Newbury. The family were still living in Mayor's Lane in 1891 and David was still working as a Bricklayer's Labourer.
David died aged 55 on the 17th September 1892 he was laid to rest in the Newtown Road Cemetery on the 20th September
Sarah remarried on the 18th November 1899 in Newbury her 3rd husband was Edward William Woods. The 1901 census records Edward (41), Basket Maker, Sarah (50) and George Herbert (14) living in Mayor's Lane
The 1911 census records Edward Woods, (51), born Ascot Berkshire, Basket Maker, Sarah (59) and John Woods (11), born Reading (recorded as son but no birth registration found) living at 4 Friends Cottages Newbury.
Sarah died aged 74 in 1926 in Newbury
Sources:https://www.fitzmuseum.cam.ac.uk/dept/coins/collection/watson