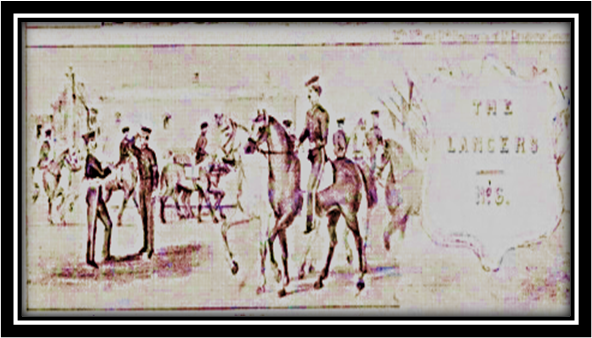 The Cavalry of the British Army has long been famous for its "dash" and the 19th century witnessed many overseas conflicts and famous cavalry events, such as the charge of the Union Brigade at Waterloo and the charge of the Heavy and Light Brigades at Balaclava.
Buried in Newtown Road Cemetery is John Richard Coleman who was born in 1830 into a military family in Bangalore in the Madras Presidency. Bangalore was one of the major garrisons in India and young Coleman grew up immersed in the daily routines of British garrison life and benefiting from a basic education at the army schoolhouse.
On 3 March 1845 at the age of 14 ½ years, he attested into the 15th King's Hussars and his army service would also include the 12th Royal Lancers and the 1st King's Dragoon Guards, from which he retired in November 1869. In the 1840's, the British Cavalry in India was undertaking a detailed review. A key figure in the development of cavalry tactics and organisation was Captain Louis Edward Nolan who had served in the Austrian cavalry before joining the British Army in the 15th King's Hussars. He played a pivotal role in modernising the British cavalry which developed from his position as Regimental Riding Master in Bangalore.
He also wrote 2 important books on Cavalry Theory and Horsemanship. As a Trooper and Trumpeter, Coleman would have undertaken the training programme developed by Nolan at Bangalore. Central to Nolan's work was the belief that horses were best trained "by gentleness not by harshness".
Coleman did not return with his Regiment to Exeter in 1854. He transferred to the 12th Royal Lancers (Prince of Wales's) who had recently arrived from South Africa. He remained a Trooper and Trumpeter.
France and Britain were becoming concerned about Russia's ambitions towards the Turkish Empire and war broke out in March 1854. The Allies landed in the Crimea which led to an assault on the naval base of Sevastopol. Following the Light Brigade charge at Balaclava in which Captain Nolan was killed, it was essential to replace the losses.
The 10th Hussars and 12th Lancers were summoned from India as reinforcements to the Crimea in the Spring of 1855. The 12th Lancers travelled via the Red Sea, and across the desert to Alexandria, where they took ship to Balaclava. They saw action before Sevastopol and Eupatoria. Coleman received two campaign medals – The Crimean Medal with Clasp for Sevastopol and the Turkish Crimean Medal. He was promoted to Corporal on 29 July 1855.
The Regiment subsequently returned to India and took part in operations in Central India under Sir Hugh Rose during the Indian Mutiny. Coleman was promoted to Sergeant on 8 June 1858. The Regiment returned to England in 1860 but he remained in India by transferring to the 1st King's Dragoon Guards on 29 February 1860.

A year later he married Mary Bishop, a Newbury-born girl, in Holy Trinity Church, Bangalore, on 7 February 1861. How, where and when did they meet? His official record does not state that he went to England. Two children were born in Bangalore – Richard Bishop Coleman on 6 March 1862, and Hannah Coleman on 18 October 1863.
Another daughter, Frances, was born in Secunderabad on 25 September 1865 and by this time the Regiment was ordered to return to England to replace the 17th Lancers at Aldershot. Soon after arrival in England he was appointed Troop Sergeant Major on 27 March 1866. His fourth child, William Alfred Coleman, was born in 1867 at Aldershot.
After completing over 24 years of faithful service to his Queen and Country, he was officially discharged in November 1869, in consequence of his being unfit for further service. He was diagnosed with "valve disease of the heart, the result of service with perhaps some constitutional tendency". On discharge he was described as 6' 1", freckled complexion, with dark brown eyes and hair. He had a total of 5 Good Conduct Badges, and he was awarded the Long Service and Good Conduct Medal with a gratuity of £5.
He moved to Newbury with his family to live with Hannah Bishop, his mother-in-law, at 3 Alton Place, Northbrook Street. Another son, Charles Henry Coleman, was born on 5 December 1869. Coleman died a few months later, aged 39 years, on 11 March 1870: his mother-in-law, formerly a nurse, was present. Cause of death was "diseased liver and phthisis". He was buried on 16 March leaving effects of less than £200 to his widow Mary.
Mary, now left with 5 young children to bring up on a soldier's pension, worked as a Cook/Domestic for almost the rest of her life. She died aged 80 years on 9 November 1912 at 11 King John's Almshouses, Argyle Road, and she was buried alongside her husband on 13 November. Finally, both are at rest after a life filled with the adventure and the shared hardships of a military life. Their son William Alfred and their daughter Frances (later Fanny Dunk) are buried with them.
Sources:Research