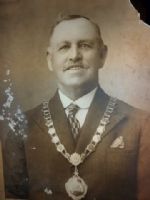 James in the regalia of the District Chief Ruler of the Berks, Bucks & Oxon branch in 1936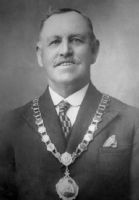 as above
James Baverstock was born in 1870 & died in 1944. As a child he lived in Old Road, later Old Newtown Road, and when his family was young he built 93 Old Newtown Road and lived there until his death. His son and wife and a spinster daughter lived there until their deaths in 1966 and 1978 by which time the house was quite dilapidated and gas lamps were still used. The Deeds of the house show how long it took to raise the money to buy extra land and build. The family was living in the house by the time of the 1911 census. Help with the mortgage came from Stephen North of 3, Priory Road & the Independent Order of Rechabites, a Temperance Movement which grew from Methodism and encouraged thrift and the habit of regular saving in its members. The picture shows James in the regalia of the District Chief Ruler of the Berks, Bucks & Oxon branch in 1936.
His house overlooks the south western end of the cemetery where he and Members of his family are buried. In the Directories he is variously described as a scrap metal merchant or marine dealer.
He ran the business from his house and evidence of his trade is often dug up in the garden.
People still living in Newbury who are related to the Baverstocks often tell the current house owners that they spent many happy hours in the house and helping make the cream in the dairy house behind. The Baverstocks owned land around, including the site of St John's Infants School.
James & Sarah were said to be lovely people. Their names and work are remembered in an inscription on a brass salver in the Methodist Church in Northbrook St: To the memory of James Baverstock, Local Preacher, 1894-1944 and his devoted wife Sarah Jane.
One of the Friends of NRC, Pam Dean, is the widow of Tony Dean, grandson of James & Sarah's through their daughter, Winifred Elsie.
Related Links:
http://en.wikipedia.org/wiki/Independent_Order_of_Rechabites
Sources:Personal research